America's Presidential Pups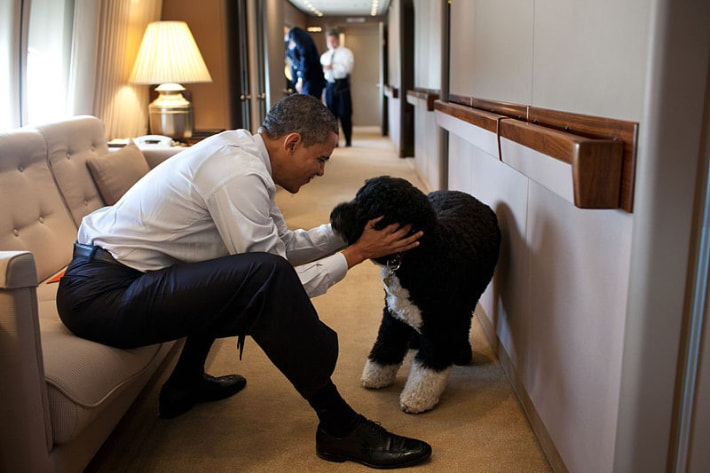 Many pets have found presidential homes in the White House over the years, from parrots and pigs to roosters and raccoons. However, dogs have been the most popular pet, with 30 of the 45 presidents having had at least one dog. George Washington was the first to have a dog during his presidency, and the last was Barack Obama with two dogs. Donald Trump is the first president in over 100 years to not have a dog in the White House and is the first since James K. Polk to have no animals. President-elect Joe Biden is poised to reset the tradition of dogs in the Executive Mansion. A few presidential pups stand out above the rest throughout history, just like their human companions.
Did you know America's first president created an entirely new dog breed that still exists today? The American Foxhound owes its pedigree to George Washington, who wanted a superior dog for fox-hunting that was fast, intelligent, and had a strong sense of smell. Despite having more than 20 dogs, Washington was most commonly seen with Tipsy, Sweet Lips, Cloe, Tipler, Vulcan, and Drunkard. Washington cared for his dogs deeply and visited his dog's kennels morning and night to ensure he spent quality time with his pups.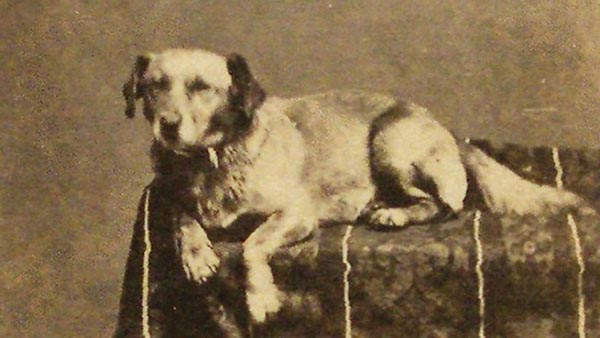 Do you ever wonder where the name "Fido" came from? It's the name of President Abraham Lincoln's dog! Before his life in the White House as the presidential dog, Fido enjoyed long walks around town and accompanied Lincoln while running errands. However, when Lincoln won the presidency, Fido had difficulty adjusting to the frequent visitors and constant travel life in the White House demanded. Unfortunately, the Lincolns had to make the difficult decision to send Fido to live with a friend; however, there were strict conditions! Lincoln ensured that Fido was never to be tied up alone outdoors, never to be yelled at for having muddy paws in the house, always to be allowed inside when he scratched at the door, and was always to be allowed to walk around the dinner table freely. Lincoln also sent Fido off with a custom-made couch that fit the president's famously tall stature to give Fido some comfort from home.
Theodore "Teddy" Roosevelt had many presidential animals, including a badger and kangaroo rats, but his most famous was Pete, his Bull Terrier. Pete was best known for biting the ankles of White House staff and visitors! According to the Presidential Pet Museum, Roosevelt loved Pete dearly, describing him as "ridiculously affectionate" and often made excuses for Pete's behavior. Eventually, Teddy was out of excuses after an incident where Pete chased a French Ambassador up a tree. After this "unforgivable" incident, Pete was sent to live with a local doctor but ultimately ended up with the Roosevelts once more.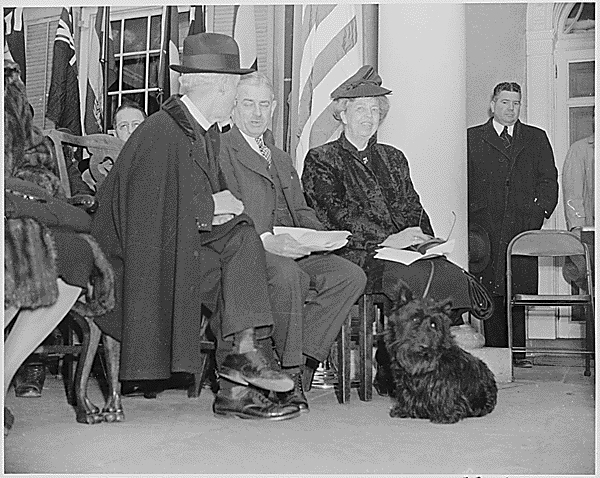 Teddy wasn't the only Roosevelt with love for pups! Franklin D. Roosevelt had eight dogs while serving in the White House, but Fala, his Scottish Terrier, was the most popular. Fala even had a secretary to sort his fan mail because he was so well-loved! Fala was treated like any presidential pup should be while he was in the White House. He was served on the President's breakfast tray and slept on an exclusive chair at the foot of the President's bed. Fala also did many tricks that FDR loved showing off, including curling his lip into a smile! Fala was Roosevelt's closest companion until the end and even attended the president's funeral. Fala and FDR's statue is in Washington DC at the Franklin Delano Roosevelt Memorial, making Fala the first presidential dog to be immortalized as a statue. Still, he's also the only presidential pet ever to receive the honor!
The Coolidge family had 23 pets during Calvin Coolidge's presidency. They had multiple dogs, cats, birds, a bobcat, a donkey, and Mrs. Coolidge's beloved raccoon. One of their most famous pets was a White Collie named Rob Roy. Rob Roy, named after a popular prohibition cocktail, was the first dog to be a part of an official First Family portrait and accompanied First Lady Grace Goodhue Coolidge in her official White House photo. Rob Roy often walked with the Coolidges around Washington D.C. while Mrs. Coolidge shopped, accompanied the president to the oval office, and slept in the President's bedroom.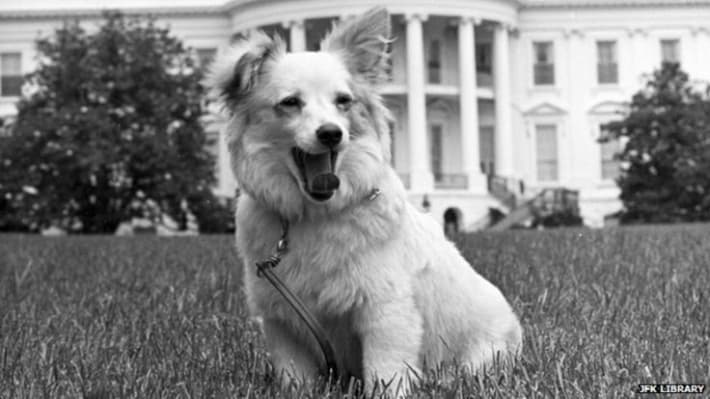 Kennedy's dog Pushkina was the talk of the American people during JFK's presidency. Pushkina's mother was the first dog to fly into space and return safely, which didn't help when Pushkina was accused of being a Russian spy, and she also helped save the world from nuclear destruction! It started when Jackie Kennedy took a liking to Soviet Leader Nikita Khrushchev's famous astronaut dog, Strelka, during a state dinner and asked if Strelka had any puppies. A puppy arrived at the White House a few months later from Khrushchev. Kennedy and Khrushchev exchanged many letters and gifts during the Cold War, Pushinka being the cutest. However, some people thought Pushinka was an insult to the President, and some even thought she was a Russian spy dog, but that didn't stop the Kennedys from keeping her. They even kept Pushinka despite JFK's dog allergy because he believed having pets in the home was essential for their children. During the Cuban Missile Crisis and Cold War, while tensions ran high, many believe that Khrushchev and JFK's communication and gifts, including Pushkina, helped end the Cold War!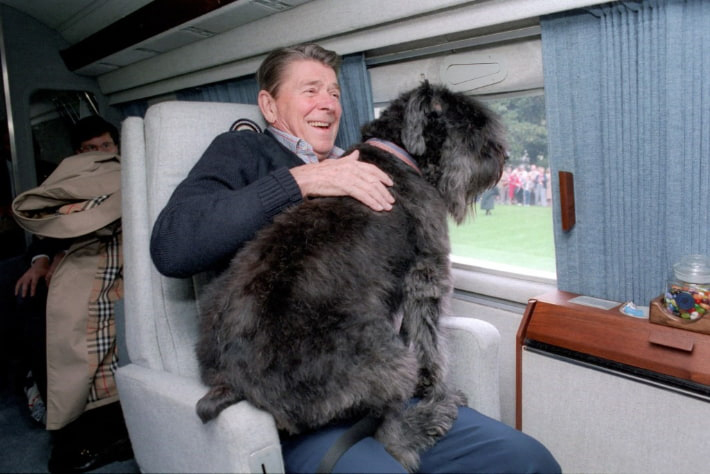 Lucky was given as a gift to the Reagans and was affectionately named after Mrs. Reagan's mother, Edith Luckett Davis. Lucky was a Bouvier des Flandres, which have an average weight ranging from 77 to 100 pounds. He was a large dog that required a lot of exercise, and the Reagans soon realized this and moved Lucky to their California Ranch from the White House, where he had the space to run around. Lucky also served as the inspiration for the Presidential Pet Museum, which opened in 1999. Reagan's official dog groomer was once the now-famous museum's curator.
George HW Bush's dog Millie "wrote" a book, Millie's Book: As Dictated to Barbara Bush, and became a New York Times Best Seller! It describes a day in the president's life from a First Dog's perspective, and the post-tax proceeds were donated to nonprofit literacy organizations. The Bush family loved Millie, and so did the rest of the country, especially in Houston, TX, the Bush's hometown! Citizens petitioned for five years to open the town's first dog park, the Millie Bush Bark Park, within George Bush Park. This was approved in 2004, and the city's dog-loving dreams came true! The park features fake fire hydrants, open areas to run leash-free, walkways, swimming ponds, and doggy showers. All because of one beloved pup!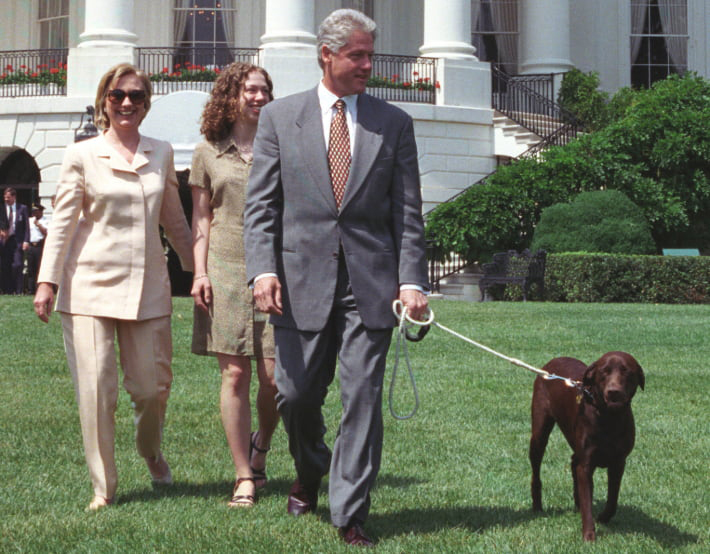 Buddy, Bill Clinton's dog, was named after Clinton's late great-uncle who trained and raised dogs for more than 50 years, Henry "Buddy" Grisham. Many fan clubs and websites came up in his honor shortly after Buddy arrived at the White House. The Clinton's also had a cat, Socks, who would fight with Buddy just like real siblings! Their feud became prominent during the Clinton's stay in the White House. A book about the pair Dear Socks, Dear Buddy: Kids' Letters to the First Pets, was written by First Lady Hillary Clinton. It described the enormous amount of fan mail that the pair received from their loving fans.
Former President Barack Obama promised Malia and Sasha, his daughters, that if he won the presidency in 2008, he would get them a dog. The first photos of Bo, their Portuguese Water Dog, went viral after the election. Bo became so popular that he was made into a plush toy sold on the White House online gift shop, was the subject of four books, and had an official schedule. Like FDR's famous dog Fala, Bo traveled the world with the First Family on Air Force One and met many world leaders. He loved to join Michelle Obama at her children's book readings and quickly stole the show, arguably becoming the more anticipated guest among the children. Don't be fooled; being First Dog isn't all fun and games. Bo and his sister Sunny, who joined the family in 2013, were almost dognapped! Luckily the Secret Service arrested the suspect before his wicked plot could unfold.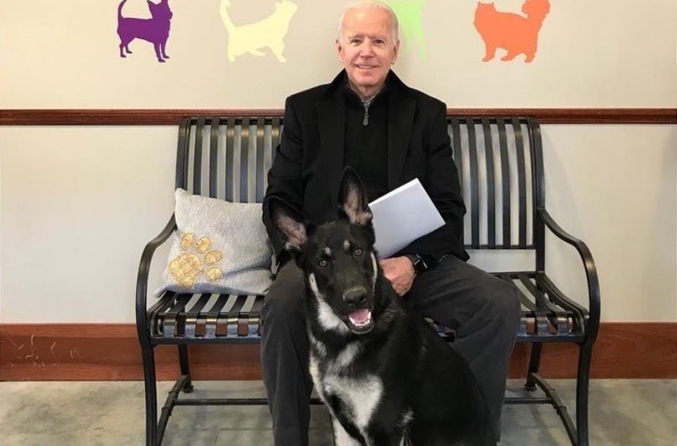 Now, in just under a week, the White House will once again be occupied by pups! The Bidens have two dogs, both German Shepherds, Champ and Major. Major Biden will also make history as the first shelter dog to live in the White House in even more exciting news. He'll be following in Champ's Washington, DC, footsteps after the dog spent eight years in the former vice president's residence at the Naval Observatory.
Just think, these presidential dogs were a part of some of the most influential conversations that affected our nation and the world.You may not be coming home from work on Air Force One, but don't worry, your First Dog is just as special! Maybe your pup won't have a statue erected in their honor, but you can still honor them. At Silver Lucy, we make miniature sculpture jewelry you can keep with you.